PowerFlare® Government/Fleet Products
PowerFlare® Electronic Beacon

PowerFlare Corporation proudly builds its products to meet or exceed specifications and regulations for government, military, commercial, and consumer use.
The PowerFlare® unit is a versatile lighting and signaling device with a unique combination of electronic and physical features.
In addition to being amazingly tough, PowerFlare® units are smart. In fact, each one has a computer chip inside that provides features such as:
Battery charge management: Ensures that the maximum amount of power is stored and is efficiently transferred to light output
Multiple user-selectable flash patterns: Choose a flash pattern best suited to the circumstances. For example, solid-on can be used as a task light.
Auto on/off: The unit automatically turns off when inserted in the charger. When removed from the charger, the unit will remember its last set flash mode.
The PowerFlare® 5-Pack is designed for government and fleet use. It consists of a charger that is about the size of a lunch box and five PowerFlare® units.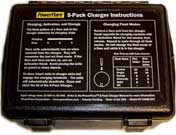 Some of the unique features of the 5-Pack Charger include:
Compact: Can be placed in various locations in vehicle & takes up much less room than a box of old-fashioned flares
Smart charging: Will not overcharge PowerFlare® units
Vehicle battery saver: Detects condition of vehicle battery & goes to "sleep" if voltage is too low
Installation is quick & easy: Just plug into your cigarette lighter or direct wire in your trunk using your car's existing wires. Additional 5-Packs can be connected together to have 10, 15 or more PowerFlare® units charging in your trunk.
Please see our list of products to learn more.